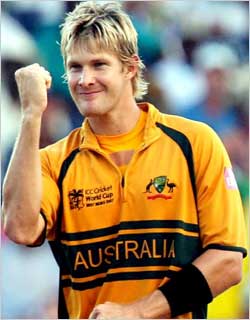 Personal Profile (Personal Biography)
Full Name:
Shane Watson
Nick Name:
Watto
Date of Birth (Birthday):
17 June 1981
Birth Place:
Ipswich, Queensland, Australia
Height:
1.83 m (6 ft 0 in)
Batting style:
Right Handed
Bowling style:
Right arm fast-medium
Role:
All Rounder
Marital Status:
Married
National Team :
Australia
Sports Played :
Cricket
Profile
Shane Watson is brilliant all-round cricketer, who has overcome a series of injuries to become a key member of the Australia team. He is a right-handed batsman and a right-handed fast medium bowler. He mainly bats as an opener in international cricket, although he does not do so domestically.
After leaving his home state of Queensland (Australia), Watson started his first-class cricketing career for Tasmanian Tigers. But to initiate his international career he returned to play for his native Queensland Bulls. Watson cited Steve Waugh and Ricky Ponting as his idol since childhood. He is a Gemini and likes listening to Guns 'n' Roses before a game.
Professional Life of Shane Watson
Shane Watson : Cricket Career
A fter leaving his home state of Queensland,Watson started his first-class cricketing career for Tasmanian Tigers but returned to play for his native Queensland Bulls as his international career was initiating. He has also played for Hampshire in the English County Championship. He regards Terry Alderman as one of his mentors. Watson was selected for his first Australian team in early 2002, being selected to tour South Africa with the Test team after topping the Pura Cup wicket-taking charts for Tasmania. Australian captain at the time Steve Waugh stated that Watson would possibly be Australia's first genuine all rounder
Watson continued as a regular member of the ODI team until he suffered three stress fractures in his back, at the start of 2003, missing the 2003 Cricket World Cup. He was replaced by his Queensland teammate Andrew Symonds and his injury sidelined him until the 2003–04 Australian season. During his rehabilitation he played most of the season as a batsman, allowing himself to improve his batting skills while his back was still healing. Watson returned to regular ODI duty in the 2004–05 season, as a bowling all rounder. Thereafter his career as a international cricketer took off tonever look back .
Shane Watson : Indian Premier League
Watson played in the Indian Premier League for the Rajasthan Royals team. Signed up for US $125,000, he performed well with both the bat and the ball scoring four half-centuries to anchor his team to victory in three matches of the tournament and in the semifinals. He also picked up 17 wickets, won four man of the match awards in his first twelve games and also won the Man of the Series award.
Watson missed the second IPL season due to national duty and injury, and Rajasthan failed to reach the top four in the qualifying rounds. For 2011 season, Rajasthan Royals successfully retained Shane Watson along with the skipper Shane Warne
Personal Life of Shane Watson
Watto's Wife - LEE Furlong
Watson's wife Lee Furlong, whom he married in June 2010, is a Fox Sports Australia presenter. Furlong is also an ambassador for Cricket Australia and plans to blog throughout the matches and present fan segments at each Test. Watson recently signed on to a presenting gig with Fox Sports - the same network as his wife, who will soon host Football Superstar spin-off Cricket Superstar.
Glowing with love, Lee chuckles, "I get to see him now when I go to work." And adds, "He has been home for a bit too so we've had some quality time together."
"I think it's good for the guys to have as much normality as they can and I generally try and spend as much time with [Watson] as I can," she said taking the best care of her new hubby.
Cricket
Indian Cricket Stars

International Cricket Stars