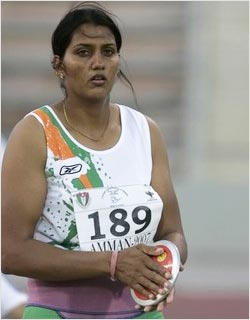 Personal Profile (Personal Biography)
Full Name:
Krishna Poonia
Date of Birth (Birthday):
11th October 2010
Zodiac Sign:
Libra
Hair Color:
Black
Birth Place:
Agroha, Hisar district of Haryana
Religion:
Hindu
Marital Status:
Married
Languages:
Hindi, Haryanavi and English
Professional Game:
Athletics
Family Background
Husband's Name:
Virender Singh Poonia
Employer:
Indian Railways
Education
Graduation :
Sociology in Kanodia Girls College, Jaipur.
Athletics Background
Famous Victories
2006
- Doha Asian Games - Bronze medal
2010
- Delhi Commonwealth Games – Gold medal
Interesting Facts
Krishna is the first Indian woman to win the Gold Medal at Common Wealth Games Delhi 2010.
She is the first Indian woman to win a gold medal in track and field events of Commonwealth games.
Krishna Poonia had won gold medal in the 46th Open National athletics championships
Awards & Achievments
Facilitated with Arjuna Award in 2010.
Cash reward of Rs 10 Lakhs by Government of Rajasthan for CWG gold medal.
Bhim award from Government of Haryana.
Bhavani Singh samman from former royal family of Jaipur.
Maharana Mewar award from Mewar Foundationz.
Maharana Pratap award from Government of Rajasthan.