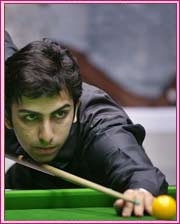 Personal Profile (Personal Biography)
Date of Birth (Birthday):
July 24, 1985
Zodiac Sign:
Leo
Height:
5'5"
Hair Color:
Black
Birth Place:
Pune, India
Religion:
Hindu
Marital Status:
Single
Languages:
Hindi and English
Hobbies:
Music
Family Background
Mother's Name:
Kajal Advani
Brother
Shree Advani
Games Won
2010-
Asian Billiards Championship
2009-
World Professional Billiards Championship
2009-
Asian Billiards Championship
2008, 2005, 2003-
IBSF World Billiards Championship
2005, 2003 -
India Junior Snooker Championship
2005, 2003, 2001, 2000 -
India Junior Billiards Championship
Insight to Pankaj's's Life
Pankaj Advani is definitely the pride of India. In a country where Billiards and Snooker have no major following, he has made a name for himself and proved his mettle over and over again. Pankaj is the reigning IBSF World Billiards Champion in both the formats of the game i.e. timed and points. This is not his first world championship title as he had won the same competition in the years 2003 and 2005. Pankaj has also won the Indian Junior Snooker and Indian Junior Billiards Championship on more than one occasion.
In the year 2009, Pankaj Advani was conferred the Padma Shri for his tremendous contributions to the game of Billiards and Snooker. He is one super icon of Indian sports who will bring more accolades in times to come for India.
Awards and Acievements
Pankaj Advani is a champion performer in the field of Billiards. He has won many awards in his career as a professional billiards player. He has been felicitated with many awards, prominent amongst them include Padma Shri, Rajiv Gandhi Khel Ratna and the Arjuna Award.