Personal Profile (Personal Biography)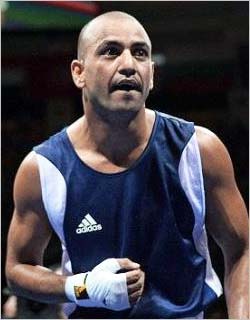 Full Name:
Akhil Kumar
Date of Birth (Birthday):
March 27, 1981
Zodiac Sign:
Pisces
Height:
168 cm"
Hair Color:
Black
Birth Place:
Faizabad, Uttar Pradesh, India
Religion:
Hindu
Marital Status:
Single
Languages:
Hindi, Haryanvi and English
Professional Game:
Boxing
Boxing Background
Famous Victories
2007-
Asian Championships - Bronze medal.
2006-
Commonwealth Games - Gold medal
2005-
Commonwealth Federation Boxing Championships - Gold medal
2001-
International Invitational Boxing Championship - Gold medal.
1999-
YMCA. Junior International Boxing Championship -Gold Medal
Insight to Akhil's Life
Akhil Kumar was born in Faizabad, Uttar Pradesh on 27th March 1981and the soil of Haryana nurtured his talent. He started boxing at an early age of 13 years. He cherishes the memory of his first ever fight at "School State level Boxing" in Haryana. He started boxing as a hobby, as a passion which he wonderfully transformed into his loving Profession.
Award and Achievements
Arjuna award in 2005.
Bagged Best Boxer Award three times in his career.