Personal Profile (Personal Biography)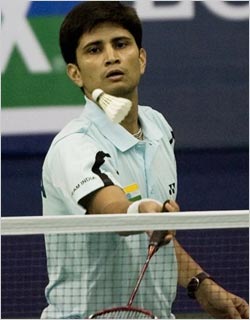 Full Name:
Chetan Anand
Date of Birth (Birthday):
July 8, 1980
Zodiac Sign:
Cancer
Height:
5 ft 11 in
Weight:
77 kg
Hair Color:
Black
Birth Place:
Vijayawada, Andhra Pradesh, India
Religion:
Hindu
Marital Status:
Single
Languages:
Hindi and English
Professional Game:
Badminton
Family Background
Father's Name:
Mr. Harshavardhan
Mother's Name:
Mrs. Suguna
Brother's Name:
Sandeep Anand Burdagunta
Education & Employment
Employed as an executive engineer in Oil and Natural Gas Corporation, Chennai.
Graduation from Potluri V Prasad Siddhartha Institute of Technology in Vijayawada. He initially joined Sri Venkateswara College of Engg, Machilipatnam where he was detained due to short academic attendance.
Badminton Background
Handedness
: Right
Famous Victories
1999-
Junior National Championship
2008-
Bitburger Open.
2009-
Singapore Open Super Series
2009-
Jaypee Cup Syed Modi Memorial Grand Prix at Lucknow
2010-
Dutch Open
2010-
Ranked No. 13 in world badmiton rankings.
Insight to Chetan's Life
Chentan Anand is amongst the elite class of sportsmen in India. Since his childhood, he has been brought up in an atmosphere of badminton sport. His father had formerly been an annual participant in the Inter-state Lecturer's Tournaments. Chetan also took a personal interest in badminton, and he started playing at school.