Personal Profile (Personal Biography)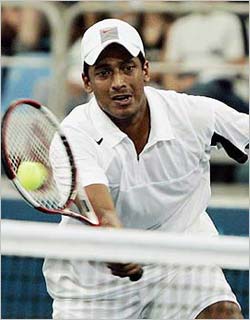 Full Name:
Mahesh Shrinivas Bhupathi
Nick Name:
Hesh
Date of Birth (Birthday):
June 7, 1974
Zodiac Sign:
Gemini
Height:
6 ft 1 in"
Weight:
89 Kg"
Hair Color:
Black
Birth Place:
Chennai, India
Religion:
Christian
Marital Status:
Married (Separated)
Languages:
Hindi,English
Professional Game:
Tennis
Family Background
Father's Name:
C. G. Krishna Bhupathi
Wife's Name:
Shvetha Jaishankar (Separated)
Tennis Background
Turned pro:
1995
Famous Victories
1999, 2001 -
Winner French Open Doubles
1999 -
Winner Wimbledon Doubles
2002 -
Winner US Open Doubles
2006, 2009 -
Winner Australian Open Mixed Doubles
1997 -
Winner French Open Mixed Doubles
2002, 2005 -
Winner Wimbledon Mixed Doubles
1999, 2005 -
Winner US Open Mixed Doubles
4 Grand Slam singles titles
12 ATP Masters Series/ATP World Tour Masters 1000
6 ATP International Series Gold/ATP World Tour 500 Series
23 ATP International Series/ATP World Tour 250 Series
28 wins
Davis Cup for India
2006 -
Doubles championship at Asian Games in Doha
Insight to Mahesh Bhupathi's Life
Mahesh Bhupathi is an icon tennis player from India tagged as one of the best double tennis player in the world. With 45 singles tiyles, 10 grand slam titles and mixed doubles to his credit, Mahesh is a perfect combination of talent and hard work. He loved to play tennis since his childhood and would accompany his father for the practice every day. Popularly fanous by the name of Hesh, Mahesh Bhupathi was the first Indian to win a Grand Slam title by winning the French Open mixed doubles title in 1997. Mahesh Bhupathi is also involved in developing tennis facilities in India, along with his company Globosport. He has played a key role in developing and managing the careers of many Indian athletes like the present Tennis star, Sania Mirza.
Award and Achievements
Amongst the many awards received, Mahesh Bhupathi is a proud recipient of the Padma Shri in 2001 Karmaveer Puraskaar,07, iCONGO-Confederation of NGO.