Personal Profile (Personal Biography)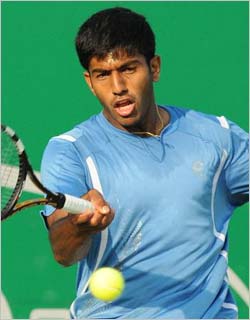 Full Name:
Rohan Bopanna
Date of Birth (Birthday):
March 4, 1980
Zodiac Sign:
Pisces
Height:
6 ft 3 in"
Hair Color:
Black
Birth Place:
Bangalore, India
Religion:
Hindu
Marital Status:
Single
Languages:
Hindi, Kannada and English
Hobbies:
Golf, Adventure Sports, Watching Bollywood movies
Professional Game:
Tennis
Family Background
Father's Name:
M.G. Bopanna
Mother's Name:
Malika
Wimbledon
Favorites
Favourite Surface:
GrassBR>
Favourite Tournament:
Wimbledon
Favourite Player:
Stefan Edberg
Favourite Holiday Destination:
Koh Samui, Thailand
Hobbies:
Golf, Adventure Sports, Watching Bollywood movies
Tennis Background
Davis Cup Debut:
Against Australia in September 2002
Famous Victories
2010-
Runers up in US Open.
2010-
Johannesburg, South Africa - ATP Doubles
2008-
Los Angeles, United States - ATP Doubles
Insight to Rohan Bopanna's Life
Rohan Bopanna is one of the emrginf tennis stars in the world. He is considered to be the next genration of lawn tennis players in India after renowned champs in the form of Leander Paes and Mahesh Bhupati. Rohan started playing tennis at a tender age of 11 because his father wanted him to pursue an individual sport. He trained with Mahesh Bhupathi's father, C. G. Krishna Bhupathi, for a few years before making his Davis Cup debut for India versus Australia in September 2002. Rohan Boppana partly owns a bar with friends in Bangalore. In teh year 2010, he raised money for physically handicapped children at the Opportunity School in Coorg.