Durga Khote is a prominent face pf bollywood's golden era. She was the first 'freelance' artists of her time who played some legendary roles in popular movies like Mughal-E-Azam.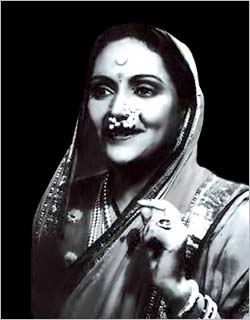 Personal Profile (Personal Biography)
Date of Birth (Birthday):
January 14, 1905
Zodiac Sign:
Capricorn
Hair Color:
Black
Birth Place:
Mumbai, British India
Marital Status:
Married
Family Background
Brother's Name:
Nandu Khote
Husband:
Vijay Mehta (Died), Mohammed Rashid
Sons:
Bakul and Harin
Daughter:
Bhavna Balsaver
Film Background (Filmography)
Debut Film:
Farebi Jaal (1931)
Famous Movies:
Ayodhyecha Raja, Charnon Ki Dasi, Bharat Milap, Mirza Ghalib , Bobby, Bidaai.
Directed Films:
Saathi (1937),
Famous Plays:
Rajmukut-'The Royal Crown'
Interesting Facts About Durga Khote
Durga Khote was one of the first "freelance" artistes of her era by working occasionally with the New Theatres, East India Film Co and Prakash Pictures.
Durga Khote wrote her acclaimed autobiography, in Marathi which was later translated into English as "I Durga Khote"
Durga Khote also remained active in theatre circuit for many years.
Awards and Accoldaes
Durga Khote recieved BFJA Awards for Best Actress (Charnon Ki Dasi) in the year 1942.
Durga Khote recieved BFJA Awards for Best Actress (Bharat Milap) in the year 1943.
Durga Khote recieved Sangeet Natak Akademi Award in the year 1958.
Durga Khote recieved Padma Shri in the year 1968.
Durga Khote recieved Maharashtra State Award in the year 1970.
Durga Khote recieved Filmfare Best Supporting Actress Award for movie Bidaai in the year 1974.
Durga Khote recieved Dadasaheb Phalke Award in the year 1983.