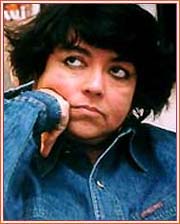 Personal Profile (Personal Biography)
Date of Birth:
31 May, 1954
Occupation:
Director, producer and writer
Cinema:
Parallel
Films Genre:
Realistic & woman-oriented films
Father:
Gopi Lazmi, Navy Captain
Mother:
Lalitha Lazmi, Painter
Uncle:
Gutt Dutt
Film Background (Filmography)
Directorial Debut Film:
Ek Pal (1986)
Film actresses Dimple Kapadia and Raveena Tandon won the National Film Award for Best Actress in 1993 and 2001 respectively for their performances under Lazmi's directorial hand.
List of Films by Kalpana Lazmi
Director:
Mujhe Rang De (2008), Chingaari (2006), Kyon? (2003), Daman: A Victim of Marital Violence (2001), Darmiyan (1997), Rudaali (1993), Lohit Kinar (1988) TV series, Ek Pal (1986), Along the Brahmaputra (1981), A Work Study in Tea Plucking (1979), D.G. Movie Pioneer (1978).
Writer:
Mujhe Rang De (2008), Chingaari (2006), Daman: A Victim of Marital Violence (2001), Rudaali (1993), Ek Pal (1986)
Producer:
Chingaari (2006), Kyon (2003), Darmiyan (1997), Ek Pal (1986)