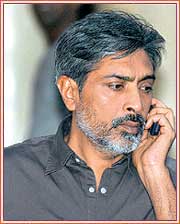 Personal Profile (Personal Biography)
Date of Birth:
27 February, 1952
Birth Place:
West Champaran, Bihar, India
Occupation:
Producer, director & screenwriter
Years active:
1976- present
Films Genre:
Political and socio-political
Spouse (s):
Deepti Naval (divorced)
Graduation:
Ramjas College, Delhi University
Film Career (Filmography)
Upcoming Movies:
Rajniti
Production company:
Prakash Jha Productions
Directorial Debut Film:
Hip Hip Hurray (1983)
For various reasons, Prakash Jha Productions has become synonymous with the film director Prakash Jha and his unique brand of cinema – 'Cinema with Power'.
Prakash also fought and lost, election to the Lok Sabha from his native Champaran in 2004.
He has made over 25 documentaries, 9 feature films, 2 TV features and 3 TV series which mainly highlights the social evil.
List of Films by Prakash Jha
Director:
Apaharan (2005), Gangaajal (2003), Dil Kya Kare (1999), Mrityudand (1997), Parinati (1988), Damul (1984), Hip Hip Hurray (1983)
Awards
National Film Awards
Winner of National Film Award for Best Non-Feature Film Face After Storm (1984) in 1984
Winner of National Film Award for Best Film: Damul (1985) in 1985
National Film Award for Best Arts/Cultural Film: Kudiattam (1986) in 1987
Winner of National Film Award for Best Non-Feature Film Sonal (2002) in 2002
Winner of National Film Award for Best Film on Other Social Issues Gangaajal (2003) in the year 2004
Winner of National Film Award for Best Screenplay Apaharan (2005) in 2006
Filmfare Awards
Won Filmfare Critics Award for Best Movie Damul (1985) in 1985
Filmfare Best Dialogue Award: Apaharan (2005) in 2006