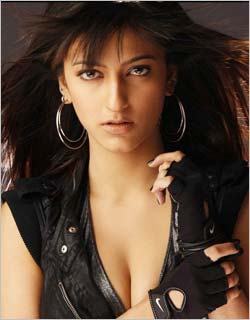 Personal Profile (Personal Biography)
Original Name:
Shruti Rajalakshmi Haasan
Date of Birth (Birthday):
January 28, 1986
Zodiac Sign:
Aquarius
Hair Color:
Black
Eyes Color:
Black
Birth Place:
Chennai, India
Marital Status:
Single
Family Background
Father's Name:
Kamal Haasan
Mother's Name:
Sarika
Sister:
Akshara
Film Background (Filmography)
Debut Film:
Hey Ram
Famous Movies:
Saroja, Luck
Famous Songs:
Potri Paadadi Ponne (Thevar Magan), Jaago Gori (Chachi 420), Ram Ram (Hey Ram), Roattorap Paattuch Chaththam (En Mana Vaanil), Adiye Kolluthe (Vaaranam Aayiram), Aazma (Luck Is The Key) (Luck), Unnaipol Oruvan, Vaanam Ellai, Allah Jaane (Unnaipol Oruvan)
Education
Abacus in Chennai until 10th grade.
Psychology at St Andrew's College, Mumbai.
music at Musicians Institute in California, USA.
Interesting Facts About Shruti Hasan
Shruti Haasan sang her first song aged just six in her father's Thevar Magan in the composition of Ilaiyaraaja.
Shruti Haasan sang with veteran singer K J Yesudas for the movie 'En Mana Vaanil'.
Shruti composed, written and sung her album 'Unnaipol Oruvan' released in mid-2009.
Shruti Haasan is the music composer of the Tamil film Unnaipol Oruvan