Tun Tun was a popular playback singer and actor-comedienne of bollywood. She is often called the 'first woman comedienne of Hindi cinema.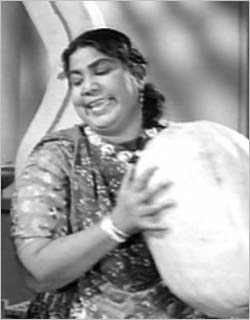 Personal Profile (Personal Biography)
Original Name:
Uma Devi Khatri
Date Of Birth:
July 11, 1923(1923-07-11)
Zodiac Sign:
Cancer
Birth Place:
Uttar Pradesh, India
Marital Status:
Married
Family Background
Husband:
Mohan
Film Background (Filmography)
Debut Film:
Wamiq Azra (Singer), Babul (Acting)
Famous Movies:
Aar Paar, Mr & Mrs 55, Pyaasa, Namak Halaal, Kasam Dhande Ki.
Famous Songs:
Afsana likh rahi hoon dil-e-bekrar ka, Yeh Kaun Chala Meri Aankhon Mein Sama Kar, Aaj Machi Hai Dhoom Jhoom Khushi Se Jhoom, Betaabhai Dil Dard-e-Mohabat Ke Asar So, Kahe jiya dole, Dil ko lagake humne kuch bhi na paya, Chandralekha.
Interesting Facts About Tun Tun
Tun Tun ran away from home at the age of 13 and knocked on composer Naushad's door for work.
A Pakistani gentleman got so enamoured by her song "Afsana likh rahi hoon" that he never went back and later married her.
Shw was named as 'Tun Tun' to suit her comic persona.
Tun Tun acted with all top comedians of her time like Keshto Mukherjee, Johny Walker etc.