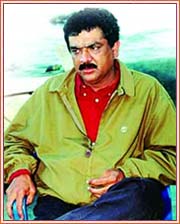 Personal Profile (Personal Biography)
Date of Birth:
11 October, 1951
Occupation:
Director & producer
Education:
Schooling from Maneckji Cooper School, Vile Parle, Mumbai and Degree in Commerce from H.R. College, Mumbai.
Spouse:
Anita
Children:
Alishka and Mikhail
Sister:
Beena
Uncle:
Inder Raj Anand, veteran film scriptwriter
Cousin:
Tinnu Anand, actor & director
Died:
7 September 1997
Film Career (Filmography)
The last film he was working on film much-hyped Dus which remained incomplete and unreleased after his death.
Directorial Debut Film:
Kanoon Kya Karega (1984)
List of Films by Mukul S. Anand
Director:
Param Veer Chakra (1988), Haathon Ki Lakeeren (1986), Hum Rahe Na Hum (1984), Kudrat (1981), Saheb Bahadur (1977), Jaaneman (1976),Hanste Zakhm (1973), Hindustan Ki Kasam (1973), Heer Raanjha (1970), Aakhri Khat (1966), Haqeeqat (1964), Kinare Kinare (1963), Anjali (1957), Funtoosh (1956), Joru Ka Bhai (1955), Taxi Driver (1954), Aandhiyan (1952), Afsar (1950), Neecha Nagar (1946)
Writer:
Kudrat (1981), Jaaneman (1976), Heer Raanjha (1970), Aakhri Khat (1966), Haqeeqat (1964), Kinare Kinare (1963), Taxi Driver (1954), Afsar (1950)
Actor:
Hindustan Ki Kasam (1973), Aman (1967), Kinare Kinare (1963), Kala Bazar (1960), Anjali (1957), Humsafar (1953)
Producer:
Hanste Zakhm (1973), Haathon Ki Lakeeren (1986)
Awards
Won Grand Prize of the Cannes Film Festival for Neecha Nagar (1946) in 1946