Great things come in small packages, that's what Bajaj Kristal resembles. Great convenience with roomy storage space, comfy ride with extra pleasure and a consistent and fuel efficient power performance with the latest DTSi technology. All these big features have been packed thoughtfully in this small but peppy new Bajaj Kristal DTSi.
One of the leading two-wheeler manufacturers in India, Bajaj Auto Limited has launched a 4 stroke, gear less scooter with a unique name of Kristal DTSi. Bajaj Kristal DTSi is the second vehicle offered in scooterette segment. The company has launched Kristal DTSi to attract youth of the age group between 16-25 years who need loads of trendy features with power performance.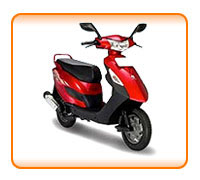 Kristal boasts Bajaj patented engine technology of DTSi (Digital Twin Spark Ignition), the revolutionary ExhausTEC (Torque Expansion Chamber) and SNS (spring-in spring) suspension system for superior fuel-efficiency and great comfort. Bajaj Kristal has a 95 cc DTSi engine, which delivers a peak power of 7.2 PS at 7,500 rpm.
Kristal DTSi comes with lots of features for the safety, riding comfort and ease of drive. Light weight, wide wheelbase, seat storage space of 22 litres, front fuelling, side stand alarm and automatic lamp features of this scooterette make it outstanding in its class.
Kristal scooter is available for sale at the Bajaj Dealer near you with a price tag of Rs. 35,000-40,000 and there are four sparkling body colors of Kristal to choose from.
| Company | Maximum Speed | Maximum Power | Displacement |
| --- | --- | --- | --- |
| Bajaj Auto Ltd. | 80 Kmph | 7.2 PS @ 7,500 rpm and 7.7Nm @ 5,500 rpm | 95 cc |
Price:
The 95 cc Bajaj Kristal DTSi is available with a price tag of Rs. 35,000-40,000.
(Please Note: The prices are ex-showroom and based on the close approximation. Please check the latest prices and variant specifications with your dealer)
Quotes-Unquotes:
"Kristal is the first un-geared scooter with front fuelling, side stand alarm, maintenance free battery and automatic lamp feature."
Said S. Sridhar, Vice-President (Marketing and Sales), Bajaj Auto.