Balraj Sahni is amongst the legends of bollywood. Movies like Do Beegha Zameen and Garm Hawa are the highlights of his career. Sahni was also a renowned writer.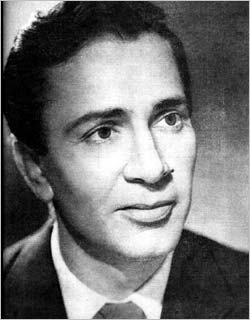 Personal Profile (Personal Biography)
Original Name:
Yudhishthir Sahni
Date of Birth (Birthday):
May 1, 1913
Zodiac Sign:
Taurus
Eye Color:
Black
Hair Color:
Black
Birth Place:
Rawalpindi, Punjab, British India
Religion:
Hindu
Marital Status:
Married
Family Background
Wife's Name:
Damayanti Sahni (Died in 1947), Santosh Chandhok
Brother's Name:
Bhisham Sahni
Son:
Parikshat Sahni
Film and Writting Background
Debut Film:
Insaaf (1946)
Famous Movies:
Insaaf, Dharti Ke Lal, Door Chaleinin, Do Bigha Zameen, Kabuliwala, Sone Ki Chidiya, Ghar Sansaar, Waqt, Garm Hava, Ek Phool Do Mali, Nanak Dukhiya Sub Sansar (punjabi)
Famous Books:
Mera Pakistani Safar, Mera Rusi Safarnama, Meri Filmi Aatmakatha (autobiography), Preetlari (Punjabi magazine).
Education
Bachelor's degree in Hindi from Punjab University.
Masters degree in English Literature from Punjab University.
Went to study at Harvard also.
Sahni's Bollywood Carrer
Balraj Sahni is considered as one of greats in hindi film industry. Belonging to a Punjabi family, Sahni completed his education and married Damayanti. Afterwards, both of them went to join Rabindra Nath Tagore. He also worked wth Mahatma Gandhi for a brief period. He started his acting career with the plays of the Indian People's Theatre Association (IPTA). Balraj Sahni entered bollywood with the movie Insaaf and went on to be at the pinnacle of hindi cinema. He believed in what is known as 'Neo-Realistic' cinema. He played lead roles in some legendary movies like Do Beegha Zameen, Waqt, Dharti Ke Lal etc. Garm Haa was his last movie and he died the very next day he completed dubbing for this movie. He also starred in the classic Punjabi film Nanak Dukhiya Sub Sansar (1970) as well as the critically acclaimed Satluj de kande.
Writer Balraj Sahni
Balraj Sahni was an eminent writer also. His works in Punjabi literature are considered to be the epics in the field. He initially wrote in English also. Mera Pakistani Safar, Mera Rusi Safarnama and Meri Filmi Aatmakatha (autobiography) are some of his legendary works. Sahni also dabbled in screenwriting. He wrote the 1951 movie Baazi which starred Dev Anand and was directed by Guru Dutt
Awards and Honors
Balraj Sahni recieved Padma Shri Award in 1969.
Balraj Sahni earned the 'Soviet Land Nehru Award for his book Mera Rusi Safarnama in 1969.
Balraj Sahni starrer movie 'Do Bigha Zameen' won the international prize at the Cannes Film Festival in 1953.
Balraj Sahni joined the BBC-London's Hindi service as a radio announcer from 1939-43.
'Punjabi Kala Kender', founded in 1973 at Mumbai by Balraj Sahni, gives away the annual Balraj Sahni Award'.
'All India Artists' Association' also gives away the annual 'Balraj Sahni Award'.
View More Bollywood Actresses