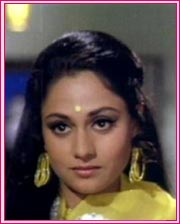 Jaya Bachchan is a famous bollywood actress and the wife of the legend Amitabh Bachchan. At the age of 15 she got her first role in Satyajit Ray's "Mahanagar". She got success with the movie Guddi, in that movie she portrayed a schoolgirl obsessed with film star Dharmendra. Some of her memorable movies are Guddi, Jawani Diwani, Anamika, Bawarchi, Zanjeer, Abhimaan, Chupke Chupke, Sholay, Fiza, Kabhi Khushi Kabhie Gham and Kal Ho Naa Ho.
Personal Profile (Personal Biography)
Original Name:
Jaya Bhaduri
Date of Birth (Birthday):
9 April, 1948
Zodiac Sign:
Aries
Height:
5'2"
Hair Color:
Black
Birth Place:
Kolkata
Marital Status:
Married
Languages:
Hindi, English
Contact Address:
Pratiksha 10th Road, JVPD Scheme, Mumbai 400 049
Family Background
Father's Name:
Tarun Bhaduri
Mother's Name:
Indira Bhaduri
Spouse:
Amitabh Bachchan
Son:
Abhishek Bachchan
Daughter:
Shweta Nanda
Film Background (Filmography)
Debut Film:
Mahanagar
Famous Movies:
Kal Ho Naa Ho, Koi Mere Dil Se Poochhe, Desh, Kabhi Khushi Kabhie Gham, Daughters of This Century, Dr. Mukta, Fiza, Hazaar Chaurasi Ki Maa, Silsila, Nauker, Ek Baap Chhe Bete, Abhi To Jee Lein, Sholay, Chupke Chupke, Mili, Doosri Sita, Dil Diwana, Kora Kagaz, Naya Din Nayi Raat, Abhimaan, Zanjeer, Anamika, Gaai Aur Gori, Phagun, Parichay, Annadata, Bansi Birju, Bawarchi, Ek Nazar, Jawani Diwani, Koshish, Samadhi, Shor, Dhanyee Meye, Guddi, Jai Jawan Jai Makan, Piya Ka Ghar, Uphaar, Mahanagar
Latest Movies:
Kal Ho Naa Ho
Film Awards:
Filmfare Best Actress Award for "Kora Kagaz" in 1975 and for "Naukar" in 1980. Filmfare Best Supporting Actress and IIFA Best Supporting Actress Award for "Fiza" in 2001, "Kabhi Khushi Kabhie Gham" in 2002 and for "Kal Ho Na Ho" in 2004. She has also won the Filmfare Lifetime Achievement Award in 2007.
Other Facts:
Jaya Bachchan is a MP of Samajwadi Party.
Favourites
Favourite Actor:
Dharmendra
Favourite Dish/ Recipes:
Biryani, pastries
View More Bollywood Clasic Cinema
Eras of Bollywood