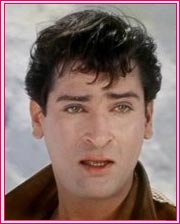 Personal Profile (Personal Biography)
Original Name:
Shamsher Raj Kapoor
Date of Birth (Birthday):
21 October, 1931
Zodiac Sign:
Libra
Height:
6'
Hair Color:
Black
Birth Place:
Bombay, Maharashtra
Religion:
Hindu
Education:
Did matric from New Era School and studied at Ruia College for a very short period
Marital Status:
Married
Languages:
Hindi, English
Hobbies:
internet surfing
Family Background
Father's Name:
Prithviraj Kapoor
Mother's Name:
Ramsarni (Rama) Devi nee Mehra
Brother(s):
Raj Kapoor, Shashi Kapoor
Sister(s):
Urmila Sial
Spouse:
Neila Devi (In 1969 he married Neila)
Ex-Spouse:
Geeta Bali (died in 1965)
Film Background (Filmography)
Film Career:
Started his carrier from his father's Prithvi Theatres
Debut Film:
Thokar
Famous Movies:
Waah! Tera Kya Kehna, Yeh Hai Jalwa, Censor, East Is East, Jaanam Samjha Karo, Dhoondte Reh Jaaoge!, Kareeb, Aur Pyaar Ho Gaya, Share Bazaar, PremGranth, Megha, Rajkumar, Namak, Rock Dancer, Prem Yog, Pyaar Ka Rog, Vivekananda, Gardish, Aaja Meri Jaan, Dosti Ki Saugandh, Humshakal, Nishchaiy, Chamatkar, Khule-Aam, Heer Ranjha, Tehelka, Lakshmanrekha, Henna, Ajooba, Mast Kalandar, Batwara, Daata, Bade Ghar Ki Beti, Mohabbat Ka Paigham, Vozvrashcheniye Bagdadskogo vora, Himmat Aur Mehanat, Hukumat, Ijaazat, Karamdaata, Kala Dhanda Goray Log, Allah Rakha, Balidaan, Ek Se Bhale Do, Aan Aur Shaan, Badal, Sohni Mahiwal, Betaab, Ek Jaan Hain Hum, Hero, Romance, Wanted, Prem Rog, Desh Premee, Vidhaata, Yeh Vaada Raha, Armaan, Ahista Ahista, Harjaee, Biwi-O-Biwi: The Fun-Film, Professor Pyarelal, Rocky, Saajan Ki Saheli, Meera, Ahsaas, Shalimar, Mama Bhanja, Parvarish, Bandalbaaz, Zameer, Chhote Sarkar, Manoranjan, Preetam, Andaz, Jaane Anjane, Jawan Mohabbat, Pagla Kahin Ka, Prince, Sachaai, Tumse Achcha Kaun Hai, Brahmachari, An Evening in Paris, Laat Saheb, Badtameez, Preet Na Jane Reet, Teesri Manzil, Janwar, Kashmir Ki Kali, Rajkumar, Bluff Master, Jab Se Tumhe Dekha Hai, Pyaar Kiya To Darna Kya, Shaheed Bhagat Singh, China Town, Dil Tera Diwana, Professor, Wallah Kya Baat Hai, Boy Friend, Junglee, Basant, College Girl, Singapore, Char Dil Char Raahein, Dil Deke Dekho, Mohar, Raat Ke Rahi, Ujala, Mujrim, Coffee House, Maharani, Mirza Sahiban, Tumsa Nahin Dekha, Ham Sab Chor Hain, Mem Sahib, Rangin Raaten, Sipahsalar, Daku, Miss Coca Cola, Naqab, Tangewali, Chor Bazar, Ehsan, Mehbooba, Shama Parwana, Gul Sanobar, Jeevan Jyoti, Khoj, Ladki, Laila Majnu, Rail Ka Dibba, Thokar
Latest Movies:
Waah! Tera Kya Kehna
Film Awards:
Filmfare Award for the best actor for Brahmchari in 1968, Filmfare Award for Best Supporting Actor in Vidhaata in 1982 and Filmfare Lifetime Acheivement Award in 1995.
Other Facts:
He is brother of Great Lengend of bollywood Raj Kapoor
View More Bollywood Actresses
Eras of Bollywood