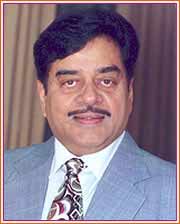 Personal Profile (Personal Biography)
Nick Name:
Shotgun
Date of Birth (Birthday):
9 December, 1946
Zodiac Sign:
Sagittarius
Height:
6'2"
Eye Color:
Black
Hair Color:
Black
Birth Place:
Patna, Bihar
Religion:
Hindu
Education:
Film and Television Institute of India
Marital Status:
Married
Languages:
Hindi, English
Contact Address:
Ramayan, 49 Nutan Lakshmi Society , 9th Road, Juhu , Mumbai 400049
Contact No.:
60481001/ 6497081
Family Background
Father's Name:
Bhubaneswari Prasad Sinha
Mother's Name:
Shyama Devi Sinha
Brother(s):
Ram, Lakshman, Bharat
Spouse:
Poonam Sinha
Son:
Luv and Kush
Daughter:
Sonakshi
Film Background (Filmography)
Debut Film:
Raaton Ka Raja
Famous Movies:
Aan: Men at Work, Baba, Bharat Bhagya Vidhata, Papa the Great, Shaheed Udham Singh, Zulm O Situm, Deewana Hoon Pagal Nahi, Hukumnama, Dil Tera Diwana, Taaqat, Zamaana Deewana, Patang, Prem Yog, Chaand Kaa Tukdaa, Betaaj Badshah, Insaaf Apne Lahoo Se, Aulad Ke Dushman, Adharm, Ranbhoomi, Iraada, Kasba, Atishbaaz, Humse Na Takrana, Zakhm, Shehzaade, Naa-Insaafi, Billoo Badshah, Aakhri Baazi, Santosh, Aandhiyan, Clerk, Kaanoon Ki Awaaz, Saaya, Ganga Tere Desh Mein, Mahaveera, Sherni, Dharam Shatru, Dharamyudh, Gunahon Ka Faisla, Khoon Bhari Maang, Zalzala, Hawalaat, Rahi, Loha, Insaniyat Ke Dushman, Aag Hi Aag, Antarjali Jatra, Jawab Hum Denge, Khudgarz, Maha Yatra, Asli Naqli, Ilzaam, Jwala, Qatl, Samay Ki Dharaa, Yudh, Ramkali, Aandhi Toofan, Amir Aadmi Gareeb Aadmi, Bhawani Junction, Hoshiyar, Kala Suraj, Phaansi Ke Baad, Telephone, Maati Maange Khoon, Aaj Ka M.L.A. Ram Avtar, Bad Aur Badnaam, The Gold Medal, Jeene Nahi Doonga, Mera Dost Mera Dushman, Paapi Pet Ka Sawaal Hai, Sharara, Qayamat, Ganga Meri Maa, Chor Police, Daulat Ke Dushman, Kalka, Taqdeer, Haathkadi, Dil-E-Nadan, Do Ustad, Log Kya Kahenge, Mangal Pandey, Teesri Aankh, Naseeb, Chehre Pe Chehra, Naram Garam, Kranti, Putt Jattan De, Waqt Ki Deewar, Dostana, Be-Reham, Bombay 405 Miles, Chambal Ki Kasam, Choron Ki Baraat, Do Shatru, Jwalamukhi, Shaan, Kaala Patthar, Gautam Govinda, Bagula Bhagat, Jaani Dushman, Magroor, Muqabla, Nauker, Atithee, Dillagi, Parmatma, Vishwanath, Kotwal Saab, Aadmi Sadak Ka, Ab Kya Hoga, Naami Chor, Safed Haathi, Sat Shri Akal, Shirdi Ke Sai Baba, Yaaron Ka Yaar, Khaan Dost, Kalicharan, Sangram, Santo Banto, Anokha, Do Thug, Kahte Hain Mujhko Raja, Dost, Badla, Shaitaan, Jheel Ke Us Paar, Aa Gale Lag Jaa, Black Mail, Chhalia, Gaai Aur Gori, Ghulam Begam Badshah, Heera, Kashmakash, Pyaar Ka Rishta, Samjhauta, Shareef Budmaash, Babul Ki Galiyaan, Bhai Ho To Aisa, Bombay to Goa, Buniyaad, Do Yaar, Milap, Raaste Kaa Patthar, Rampur Ka Lakshman, Rivaaj, Shaadi Ke Baad, Shararat, Banphool, Do Raha, Dost Aur Dushman, Ek Naari Ek Brahmchari, Gambler, Khoj, Mere Apne, Paras, Parwana, Chetna, Ek Nanhi Munni Ladki Thi, Holi Ayee Re, Khilona, Prem Pujari, Raaton Ka Raja
Latest Movies:
Aan: Men at Work
Other Facts:
He is also Member of Parliament from Bharatiya Janata Party.
View More Bollywood Actresses
View More Bollywood Clasic Cinema
Eras of Bollywood