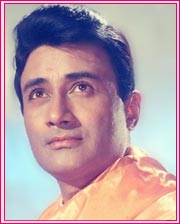 Personal Profile (Personal Biography)
Original Name:
Devdutt Pishorimal Anand
Date of Birth (Birthday):
26 September, 1923
Zodiac Sign:
Libra
Eye Color:
Black
Hair Color:
Black
Birth Place:
Gurdaspur, Punjab
Religion:
Hindu
Education:
English literature from the Government College, Lahore
Marital Status:
Married
Languages:
Hindi, English
Contact Address:
Navketan Films Anand, 42 Pali Hill Zig Zag Road, Bandra(W), Mumbai 400 050
Family Background
Father's Name:
Devdutt Pishorimal Anand
Spouse:
Kalpana Kartik
Son:
Sunil Anand
Film Background (Filmography)
Debut Film:
Hum Ek Hain
Famous Movies:
Chargesheet, Mr. Prime Minister, Love at Times Square, Return of Jewel Thief, Gangster, Sachche Ka Bol Bala, Anand Aur Anand, Des Pardes, Prem Shastra, Heera Panna, Shareef Budmaash, Gambler, Johny Mera Naam, Prem Pujari, Jewel Thief, Guide, Sharabi, Roop Ki Rani Choron Ka Raja, Sarhad, Nau Do Gyarah, Taxi Driver, Jeet,
Director:
Chargesheet, Sau Crore, Awwal Number, Sachché Ká Bol-Bálá,
Film Awards:
Padma Bhushan For his Contribution in Hindi Cinema, Best Actor Award For Guide, Kala Pani
View More Bollywood Actresses
Eras of Bollywood
Web Resources
Devanand.info
: Dev Anand Profile, Filmography, Achievement and Photo Gallery.
Indiafm.com
: Dev Anand Filmography, Articles, Wallpapers, Screensavers and Awards.
Upperstall.com
: Biography and Memorable Films of Dev Anand.
Wikipedia.org
: Dev Anand Biography, Awards/ Honors, Filmography and Links.