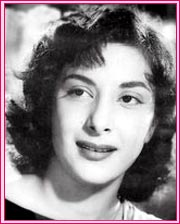 Personal Profile (Personal Biography)
Original Name:
Fatima A. Rashid
Date of Birth (Birthday):
1 June, 1929
Date of Death:
3 May 1981
Hair Color:
Black
Birth Place:
India
Education:
Rishi Valley School, Master's in Social Work, bachelor's degree in Geography
Marital Status:
Married
Languages:
Hindi, English
Family Background
Father's Name:
Mohanbabu
Mother's Name:
singer Jaddanbai
Brother(s):
Anwar Hussain
Spouse:
Sunil Dutt
Ex-Spouse:
Ex-boyfriend: Raj Kapoor
Son:
Sanjay Dutt
Daughter:
Priya, Anju
Film Background (Filmography)
Film Career:
First film personality to be awarded the Padmashree and she was also nominated to Rajya Sabha for her charitable work for spastics.
Debut Film:
Tamanna
Famous Movies:
Raat Aur Din, Yaadein, Adalat, Ghar Sansar, Lajwanti, Mother India, Pardesi, Chori Chori, Jagte Raho, Shree 420, Angarey, Aah, Dhoon, Paapi, Shikast, Amber, Anhonee, Ashiana, Bewafa, Sheesha, Awaara, Deedar, Hulchul, Pyar Ki Baaten, Saagar, Aadhi Raat, Babul, Chhoti Bhabbi, Jan Pahchan, Jogan, Khel, Meena Bazaar, Pyaar, Andaz, Barsaat, Darogaji, Lahore, Roomal, Aag, Anjuman, Anokha Pyar, Mela, Mehandi, Romeo and Juliet, Nargis, Bisvi Sadi, Humayun, Taqdeer, Tamanna, Talashe Haq
Eras of Bollywood
Web Resources
Wikipedia.org
: Nargis Biography and Filmography.
Imdb.com
: Picture Gallery, Biography and Filmography of Actress Nargis.
3to6.com
: Nargis Biography.