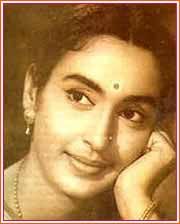 Personal Profile (Personal Biography)
Original Name:
Nutan Samarth
Date of Birth (Birthday):
4 June, 1936
Date of Death:
Feb-91
Height:
5'2"
Hair Color:
Black
Birth Place:
Mumbai
Education:
Graduation in History (Hons), Jesus and Mary College, New Delhi
Marital Status:
Married
Languages:
Hindi, English
Family Background
Father's Name:
Kumarsen Samarth
Mother's Name:
Shobhna Samarth
Brother(s):
Jaideep
Sister(s):
Tanuja, Chatura
Spouse:
Naval Lieutenant Commander Rajnish Bahl
Son:
Mohnish Bahl
Film Background (Filmography)
Film Career:
The most powerful stars of hindi cinema
Debut F
ilm:
Hamari Beti
Famous Movies:
Insaniyat, Naseebwaala, Kanoon Apna Apna, Mujrim, Main Tere Liye, Sone Pe Suhaaga, Hifazat, Naam, Karma, Ricky, Meri Jung, Yudh, Paisa Yeh Paisa, Teri Maang Sitaron Se Bhar Doon, Kranti, Saajan Ki Saheli, Ek Baap Chhe Bete, Main Tulsi Tere Aangan Ki, Saajan Bina Suhagan, Jagriti, Jogidas Khuman, Saudagar, Anuraag, Grahan, Maa Aur Mamta, Devi, Maharaja, Yaadgaar, Bhai Bahen, Gauri, Saraswatichandra, Dulhan Ek Raat Ki, Laat Saheb, Milan, Chhota Bhai, Chilaka Gorinka, Dil Ne Phir Yaad Kiya, Kalapi, Khandaan, Rishte Naahte, Chandi Ki Deewar, Bandini, Dil Hi To Hai, Tere Ghar Ke Samne, Soorat Aur Seerat, Basant, Chhabili, Manzil, Anari, Kanhaiya, Sujata, Chandan, Dilli Ka Thug, Kabhi Andhera Kabhi Ujala, Sone Ki Chidiya, Baarish, Paying Guest, Heer, Seema, Shabab, Laila Majnu, Shisham, Hamari Beti
Eras of Bollywood
Web Resources
Wikipedia.org
: Nargis Biography and Filmography.
Imdb.com
: Picture Gallery, Biography and Filmography of Actress Nargis.
3to6.com
: Nargis Biography.